As I write, my front garden is full of Lilies of the Valley and their wonderful scent greets me every time I walk down my front path!
Unfortunately, much as I love the flower and its fragrance, I have to be careful as it's the heavily scented flowers, in particular the white ones, that I seem to be sensitive to. I have to keep my distance from the Mock Orange Blossom I'm so fond of and sitting in a room with a bowl of white hyacinths is enough to make think I'm going down with 'flu.
So it was probably utterly stupid of me to bring a posy of Lilies-of-the-Valley into the house. But I couldn't resist and I ended up with a very blocked nose, a croaky voice and headache!
So I'll have to be content with paintings and patterns of Lilies-of-the-Valley, using photos to sketch the motifs from rather than the flowers themselves.
Here, again, are my initial sketches, mostly doodled then traced more neatly whilst 'watching' the television.
From there I used my light-box (a converted broken-down scanner!) to transfer them to watercolour paper for painting.
Once the individual painted motifs were scanned, tidied up – a bit! – and their backgrounds made transparent, it was time for the fun to begin!
I liked some of them enough to let them stand alone on products:
And I have a particular liking for decorative borders -
And then there's a combination of free-standing motif and decorative border -
But I am a pattern-maker at heart and could happily spend my days fiddling with motifs to make patterns!
This time I had in mind to make a pattern with a vintage look about it. To me 'vintage' brings to mind the late-Victorian/Edwardian era and the décor of iconic TV period dramas such as Sherlock (the old version, with Jeremy Brett!) and Downton Abbey.
Of course, I didn't want to simply copy the styles of that time but I think this one, my 'main' Lilies pattern, could look at home as curtain fabric at 221b, Baker Street, whilst retaining a slightly more modern feel.
One of the things that appeals to me about pattern-making is that a single pattern can give rise to so many more – in fact, when it comes to creating coordinating patterns, sometimes I find it hard to know where to stop!
Here's what appears to be a random pattern, but in fact it's anything but random.
In order to create a 'tossed' pattern that has an overall appearance of even-ness, ie, no overpowering directional lines that catch and hold your eye – the motifs have to be placed with extreme care.
It's one of the most difficult tasks involved in pattern-making and I must confess that I don't yet feel I always get it right. It's very much a question of trial and error - and experience - and I feel as if I'm beginning to get there a bit quicker than I did a year ago!
For my second coordinate, I created a kind of 'polka dot' pattern, but using a tiny version of one of the Lilies-of-the-Valley motifs in place of the dots.
By the time I had made some 'faux patchwork' patterns and a few of the mix'n'match combinations that I enjoy playing with– all in three colourways - my original sketches had yielded so many related patterns that checks, stripes, polka dots and other coordinates seemed quite unnecessary!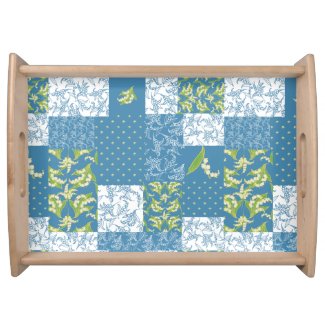 Serving Tray: Lily of the Valley, Blue Patchwork by poshandpainterly
In the end, I found I had created more than 600 products on Zazzle, all from variations of a few Lily-of-the-Valley sketches!
And now it seems that the season of wonderful garden fragrances has well and truly begun!
As well as the Lilies, I have roses blooming in my back garden. In fact the Alchemist was in flower in April and my Dreaming Spires is blooming prolifically as it climbs all over my Albertine. Sadly, it's much more visible from the house next door than it is from mine so I just hope my neighbours are enjoying the view!
And it's just as well that the Birth Month Flower for June is the Rose.
Stay tuned and you may well discover some facts about roses that will surprise you!