Some of the 'official' Birth Month flowers have really surprised me!
They don't seem to be in quite the right months - at least not for part of the UK, where I live.
But the one that has really made me wonder who decided each month's flowers, and where they live, is the Sweet Pea – one of the April Birth Month flowers.
I love Sweet Peas!
They are one of my favourite flowers. They represent everything I love about flowers: the fragrance, the colours and the diaphanous, almost ethereal look of their petals!
To me they seem as if they were designed especially for painting in watercolours and my Sweet Pea greeting cards and gifts have been very popular.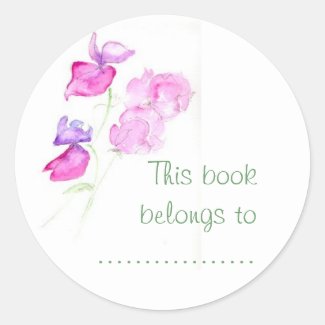 But April is far too early in the year for Sweet Peas in my garden. According to the seed packets, April is the month for sowing them outdoors.
In the past I have sown them outdoors in the Autumn, just like the Broad Beans, and that has produced slightly earlier blooms. But the past couple of years I've been so busy in the run-up to Christmas that sowing the Sweet Peas was the last thing on my mind!
This year, I experimented with sowing them indoors (in March) in biodegradable egg boxes and toilet roll tubes to make planting out easier and less of a shock to their systems.
And it seems to be working well. They look as if they'll be ready to plant outside by the end of the month, ready to flower in July.
While I think that watercolour is generally the best medium for painting Sweet Peas,
back in the 1980s
I screenprinted a Sweet Pea pattern in a slightly Art Nouveau style and made a roller blind for my kitchen door to the garden.
Later I painted the design in gouache and used it for a bookmark in my Zazzle store.
An American bride-to-be with a particular liking for blue Sweet Peas came across it when she searched online for blue Sweet Peas for her Wedding Invitations. Apparently mine was the only design with a Blue Sweet Pea! Together, by email, we worked out the layout for her invitations, which I felt was a tremendous honour and a reminder of how thankful I am for the wonders of modern technology!
An alternative Birth Month Flower for April is the humble Daisy.
And when I gave my lawn its first haircut of the year, back in March, there were already daisies amongst the grass - and other weeds. So watch out for my new pattern for April – Daisies!
In the meantime, you might like to take a look at some more of my many 'Sweet Pea' greeting cards and gifts: here's the link -