The first time I went up to the top of the Blorenge Mountain, I was very surprised to find a large pond up there, on top of the mountain!
The little market town of Abergavenny lies down below, in between
the Blorenge and Sugarloaf Mountain that you can see in the distance.
And I was even more surprised to find water lilies on the pond.
The Water Lily, a relative of the Lotus flower, is a rather exotic flower, isn't it? Something you associate with tropical countries - or at least somewhere with plenty of sunshine?
Certainly the last thing you'd expect to find on top of a mountain in Wet and Wild Wales.
This photograph of Water Lilies on the Keeper's Pond
has become one of my best-selling Sympathy Cards
But there they were, blooming on the Keeper's Pond!
So I did a bit of internet 'digging' and discovered, here, that there are a great many different varieties of Water Lilies, some of them hardy enough to grow in temperate climates.
The giant, tropical water lilies were first introduced into the UK in 1849 and grown in a specially built greenhouse at Chatsworth House. But there are others that seem to thrive in wild or semi-wild habitats - on top of the Blorenge, for instance!
In many cultures and religions, the Water Lily is regarded as sacred. Maybe it's the symbolism associated with the fact that they grow up through the mud in the dark at the bottom of the pond?
Wherever they grow, whether in the tropics or not, Water Lilies are always exquisitely beautiful. Monet certainly thought so!
One of Monet's many 'Water Lily' paintings
- probably my favourite.
And the Water Lily is the July Birth Month flower.
I was quite nervous about attempting to make a collage Water Lily for this month's repeating pattern. All those petals made from painted tissue paper could easily end up as a soggy mess. But I had already painted some for a July Birthday Card and I wanted to do something a bit different this time.
It didn't turn out too badly and, combined with another pond inhabitant, the dragonfly, it resulted in some interesting patterns -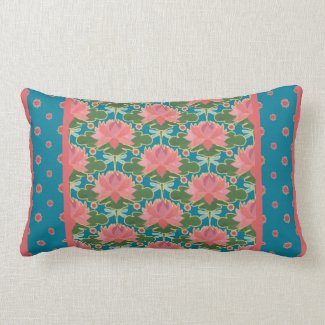 So, here's this month's Birth Month Flower message: