Time again to highlight the work of some of the other GCU and Zazzle artists who paint/draw using 'traditional methods' ie not digital art or photography. This month I asked for invitations as they seem to be high on the 'Wanted' lists at Zazzle and GCU; and so as to avoid Christmas or Valentine's Party invitations, I asked for them to be 'summery'.
The response from GCU this time was disappointing but maybe everyone's too busy watching the World Cup or perhaps some people are away on holiday? But here's what came up -
Another of Barbara Schreiber's wonderful watercolours -

This beautiful invitation to a bridal luncheon from Mary Taylor - a ribbon and stump embroidery that she made as a sample for one of her daughters' wedding dress -

Vanda Lavar's unusual and attractive wedding invitation -

My own contribution is an oil pastel painting of a jug of Mock Orange for a wedding invitation (Orange Blossom is traditionally associated with weddings because of its aphrodisiac properties!) -

There were a couple of other contributions which weren't specifically invitation cards but which might be customised for use as invitations - click on the images to go to the artists' online stores:
'Zazzler' were more forthcoming with their handpainted invitations. I suppose they are more used to being offered opportunities to promote their products through the forums. I thought it was interesting that by no means all of them were floral invitations -
AudreyJean's lovely ' Tropical Shell Paradise' -
Joyart's wonderful party invitation is drawn in coloured pencils on black paper -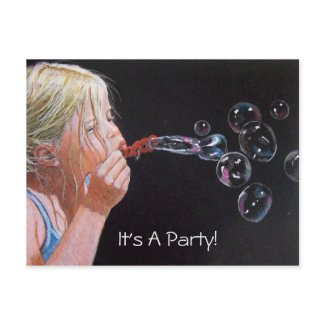 GIRL: BUBBLES: ART: PARTY: INVITATION
by
joyart
Create
photo postcards
at zazzle.co.uk
Kayatiyu's watercolour chamomiles make a pretty garden party invitation -
Chamomiles Postcard
by
Kayatiyu
Design a post card
with zazzle
Another beautiful watercolour beach-themed illustration by Michel Webber -
' Aqua Shells' beach party invitation
by
michelewebber
Make
announcements
at zazzle
Jessperry's fun invitation in coloured pencils and white ink -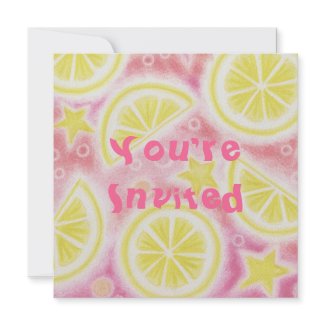 Pink Lemonade party invitation
by
jessperry
Design
custom invites
with zazzle
And maybe my favourite because I do like 'humorous', Nanwright's 40th Birthday Invitation -
40th Birthday Invitation
by
Nanwright
Browse another
invite or announcement
at zazzle.com
These attractive birds make a change from flowers too -
Bridesmaid Invitation Card
by
countrymousestudio
Create
personalized note cards
with zazzle
I haven't made very many invitations - yet! (It's on my ToDo list!) and you'll all be sick of seeing my sweet pea wedding invitations. So here's one I painted recently, trying out my new Derwent Inktense pencils. -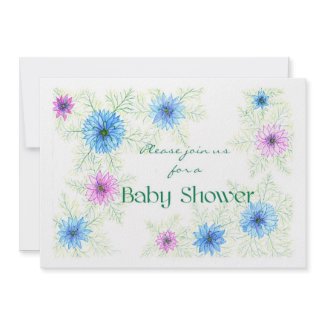 'Love-in-a-mist' Baby Shower Invitation
by
helikettle
Make
announcements
at zazzle
And finally, here's one from ImagineThatDesign that would lend itself to customisation as an invitation -
Under the Sea_Greeting Card
by
ImagineThatDesign
Design
personalized notecards
at zazzle.com
A big THANK YOU to all who contributed to this post!
Next month's theme will be 'Seaside/Coastal' so if you haven't already made anything that fits with this theme, now's your chance to get painting!