It's surprising what you can find when you're looking for something else!
I was hunting in my big 'Art' cupboard to see if I'd kept the original grubby little sketch of Knowle Park (above, dated April 1971), the one that I was working on when the deer all but ate my paints, when I came across a whole folder full of paintings that I did at school! I didn't even know that I'd kept them, and, if it weren't for the fact that I clearly remember many of the details in the paintings, and my name is neatly printed on the top, I wouldn't even have been sure that they were mine at all!
I was pleased to find that there was a preponderance of boats and coastal scenes as it bears out what I thought I remembered about having been fairly obsessed with sketching boats as a child. Most of the paintings are rather crumpled at the edges but I've managed to photograph them so that at least most of the picture is visible. What amazes me is that these were all painted at boarding school, on 'the mainland' between the ages of 11 and 16 and yet I filled them with so much accurate detail of the places that were so dear to me at home on the Isle of Wight!
My figure drawing at this stage was, frankly, awful enough to be quite funny - look at the length of the woman's arms as she stretches out with the shrimping net! And as for the flat little figure in the foreground, sunbathing on a towel - she could be Flat Stanley's sister! But even that far back - probably at least 55 years ago - I seemed to have begun to notice and somehow retain images of people and their little idiosyncrasies, such as the man paddling at the water's edge with his rolled up trousers!
The coast in the background is obviously Portsmouth but I was very fond of Sandown beach with its white cliffs so there's obviously some 'artistic licence' going on here!
I loved living by the sea in winter, when the 'visitors' had all disappeared whence they came and we would all go down to 'the Front' after a storm to inspect the damage to the sea wall - though this one looks more like the end of Ryde Pier -
Does anyone remember my description, a while ago, of the Scouts' boathouse that my parents and their friends helped build during one of those long, hot summers of childhood, while I had such fun, messing about in boats and pretending to discover a Treasure Island just round the corner in the next bay?
Well here it is, in pastels!
It looks rather spooky and it's hard to believe that I wanted to spend the night there - alone! - at the age of ten!
I can't identify this place (below) but there are plenty of details, such as the wooden groins and the seaweed clinging to the wall at the tideline, that I obviously drew from my experience of living by the sea -
This one is clearly Cowes - a scene that I witnessed at Cowes Week and stored up in my memory to take back to school with me. By now I must have been coming up to 'O' level age (just 16) as my figure drawing had vastly improved. And I do remember the fashion for huge baggy sweaters over tight-fitting, three-quarter length jeans. It was the uniform of the 'The Great Unwashed', the 'Beatniks', who apparently overran the Art Colleges, and, as I understood it, the reason I was not allowed to mingle with them! .
At this point I gave up art, having been thoroughly discouraged by getting my second lowest 'O' level mark in the subject; all those balls of string and Vim tins to draw were enough to put anyone off, not to mention the wilting philadelphus on a hot summer's afternoon!
But I did continue to sketch a bit. I also found some pen and wash sketches that I must have done on my first visit to Germany a few months after 'O' Levels. Most of them are people, but I remember spotting this barge on the Thames, possibly on the way to catching the Student Train to Germany -
Which goes to show that I was always fascinated by the shapes of all boats, not just the graceful sailing boats, something that remains true today.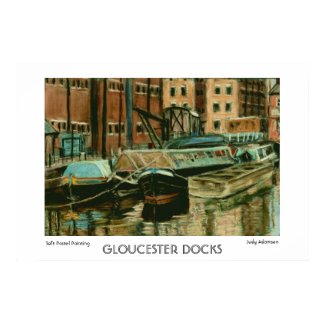 Gloucester Docks Print or Poster
by
helikettle
View other
Print Posters
I think boats are often quite difficult to draw accurately. I've struggled with some more recently. But I wonder whether I've improved at all? I've gathered together prints of some of my recent pastel paintings of boats in this post on
my other blog
.
What's your verdict?