In the UK, we've already had Mother's Day, some weeks ago. But I've been busy and forgotten to put away the cards that my family sent me. The one above is the sort of thing that is very popular at the moment over here - the word that comes to my mind to describe it is 'minimalist'!
It's been standing on a shelf where I see it every time I sit down to a meal. So I've been thinking about it quite a lot, wondering how a style that looks almost like a child's drawing could have become so popular, in fact so 'chic'! I like it but it's not my style at all. Nothing about me is 'minimalist'; I'm more of a 'clutter and collections' person.
But after writing a blog post about 'copying' -
Is Your Art Original?
- a couple of weeks ago, I've been wondering whether I could deliberately adopt a different, more fashionable style, stopping short of meticulously copying someone else's work.
So I decided to experiment.
I'd already had an idea for some kind of row of flowers in a 'window box' floating round in the back of my head for a couple of years but had never got around to doing anything about it.
I had lots of small but pretty pieces of handpainted paper left over from recent collages that were just right for flowers. So I decided that collage was the way to go. I began with the 'trough', trying to keep to nice, clean lines, nothing fussy - but couldn't help embellishing it with the hearts!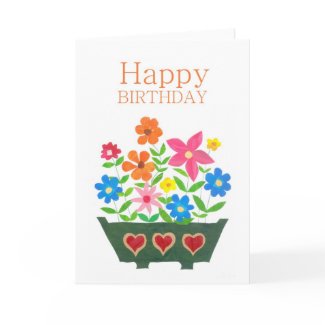 Birthday Flowers
by
helikettle
Next, I positioned the big, deep pink flower, followed by the three smaller blue ones, intending them to be supported on thin but dead straight stems as in the Mother's Day card design. The two orange flowers came next and that was all I had planned to do.

But I really didn't like the 'gaps' and began filling them in, working more instinctively and less 'thought-fully'. By the time I was happy with the flowers, there was no way that rigidly vertical stems would suit the design - and far more leaves crept in than I had planned for!
It seems, then, that even when I set out to change my style to something more 'modern', my own personality took over and produced something completely different. Yes, there are traces of 'influence' - the shapes of the flowers and leaves, for instance. But, unless I've missed something, I think the likeness ends there!
The objective of my little experiment was to try to pin down the extent to which I'm influenced by being constantly subjected to other artists' designs that I really like.

My conclusion is that yes, I am influenced but that my own 'style' probably always prevails. In this case, and almost certainly others before it, I ended up with something new, a slightly different style from my usual collages, even though it might still be recognisably 'me'. And I think that's a worthwhilestep to take to avoid becoming 'stale' - or copying oneself!
It isn't a question of which is the better design - people's tastes are so different! But I was quite pleased with my 'window-box' and I used it to create a mug, a tote bag, some stickers, an iPhone case and an apron on
Zazzle
, as well as greeting cards.
Someone else must have liked it too because the apron received a Today's Best Award and I've had some lovely comments on my store wall!
'Do not worry about your originality. You could not get rid of it even if you wanted to'. Robert Henri