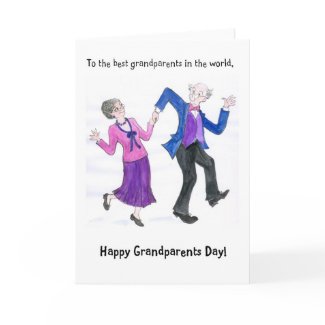 Grandparents Day Greeting Card
by
helikettle
Create a
note card
online at zazzle
Do you send or receive 'Grandparents' Day' greeting cards?
I'd never heard of 'Grandparents' Day' until I joined Greeting Card Universe, even though I've been a grandmother for more than thirteen years! But that's not really surprising because a dip into Wikipedia has informed me that it's a relatively new phenomenon in the UK, introduced as recently as 2008, and as my trips into town are mostly confined to a quick dash to Tesco and perhaps the bank, I've never really noticed what new excuse for card sales the plethora of local card shops is currently promoting, except in the run-up to Christmas, Valentine's Day and Mother's Day, - and, of course, Red Nose Day - when practically every shop window is emblazoned with seasonal reminders! But I shall certainly try to remember to check out how seriously we take this newly invented 'holiday' when it comes round in October, purely out of interest.
Yes, I did mean October. Maybe one reason why it's easy to be oblivious to Grandparents' Day is that the impact may be diluted by this designated day for showing appreciation to our 'seniors' falling on different days in different countries. In the US, where it appears to have a stronger foothold, it is a month earlier than in the UK, on September 12th this year.
I find myself having very mixed feeling about this new 'Day'. Of course, being a grandmother of six grandsons and one granddaughter, I'm all in favour of being 'appreciated'! And maybe it is right and proper that the older generation should be a little more respected than the great swing towards everything youthful has allowed in recent times. But do we really need a 'Grandparents' Day' for that to happen? Isn't it just another commercialisation of something that really merits being part and parcel of the fabric of everyday life? One of the things that struck me most forcibly when I joined Greeting Card Universe was that there seems to be a 'special' day for something at least once a week throughout the year. Doesn't this seem just a little bit contrived? And what about the people who don't yet have a designated day - aren't they going to feel just a tiny bit left out? Isn't this really and truly just about generating more card, gift and flower sales, more special 'products'?
As a greeting card designer, maybe I should be welcoming this, but as a human being, I'm not so sure!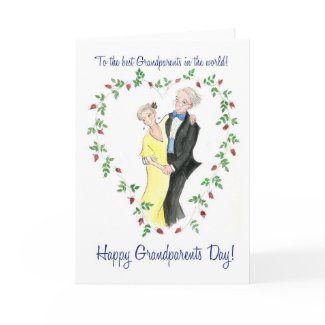 Grandparents Day Greeting Card
by
helikettle
Shop for a
card
with zazzle.co.uk
The other thing that makes me feel a little uneasy about 'Grandparents' Day' is demonstrated by the card designs I've seen. Many of them depict elderly people in rocking chairs, tea in china cups on lacy tablecloths and so on, stereotypical images of a bygone age! Most of the grandmothers I know are leading almost as busy lives as their offspring, often working, at least part-time, and in their 'spare' time, instead of knitting and tending their rose gardens, they are picking up their grandchildren from school and ferrying them to their various and numerous extra-curricular activities! (And possibly knitting and tending their rose gardens as well!) When I was tutoring it was invariably the grandparents who brought the children to me for their lessons, dashing back home to get the meal on the go before setting off again to collect their grandchildren and looking every bit as stressed as the children's parents on the rare occasions that I did meet them!
When my first grandchild was born, I travelled the 140 or so miles to my daughter's house to 'help out' for a few days. But I remember wondering, as I bombed back up the motorway on my way home, whether I'd be in time to get changed out of my jeans and into something more 'suitable' before my first pupil arrived, how very different things were in my grandmother's day!
My grandmother came to live with us when her husband died and my memory of her is of a frail, shadowy figure in a dark crepe-de-chine dress with tiny flowers on it and a lace collar - yes, really! - with a cameo brooch at the neck, lisle stockings and slippers. She sat in a chair and dozed a lot and rarely, if ever, went out of the house and was very much 'waited upon'. In fact I have a photo of myself, a few days old - to be honest, it's more of a photo of my cot! - with my grandmother presiding over it, wearing pretty much what I've described and she couldn't have been much older then than I was when my first grandson was born! My own mother was a far more active grandmother, but still a far cry from today's grandparents.
So thinking about creating greeting cards for Grandparents' Day hasn't been entirely straightforward for me. However, as I appear to be producing more 'old folks' than any other kind of design recently, I've plucked the liveliest couple from my sketchbook, presented them as 'Grandparents' Day' cards and hope they will fit the bill for somebody!
How do you feel about Grandparents' Day?
More Grandparents' Day greeting cards in my Zazzle store, including some of the more traditional floral ones and one for just a grandfather.