Yesterday evening I risked missing Eastenders in favour of going to a Private View at our local
Art Shop Gallery.
What drew me towards taking this unprecedented step was that the theme of the exhibition, 'Unfolding', was described in the invitation as 'Celebrating the book as contemporary art...' and I knew that the work of children's book illustrator,
Petr Horacek
, was somehow involved.
The exhibition was a decidely eclectic mix of examples of 'the book as contemporary art...' with some of the exhibits in shiny glass display cabinets, a few hung on the walls and various oversized pieces heavily guarded by their creators against wine splashes and olive-sticky fingers.
I stood and watched for quite a while as the pages of a feet-wide, inches-high 'book' were turned, because the title had given the impression that it was about birds in North Wales. But after nearly ten minutes, my back began to object to the standing still and I hadn't seen a single bird; so I moved on to another exhibit which I can only say reminded me of one of those numerous sample books in wallpaper showrooms that are full of porridgy-looking embossed beige wallpapers, with the occasional scribble of handwriting and drawing. I think I must be very much behind the times because I'm afraid all I could think about was what a waste of good paper it was!
The gallery was quite crowded and there was always the danger of being jostled and one's elbow smashing through a glass cabinet! And there was a definite whiff of overstuffed wallets about the gallery rooms so I wasn't too surprised to witness the purchase for £6 of a photocopy of a little book made by the offspring of one of the artists! It was quite an amusing little story but there was no particular sign of talent in the illustrations. It was just the sort of thing that my own children (and now, their children) used to make...maybe I'm in the wrong business?
One of the more interesting exhibits was of several quite attractive concertina-type books - but at prices starting at £500! I was beginning to feel quite flummoxed by it all, and wondering whether I'd get home in time for Eastenders, when I finally came across Petr Horacek's work!
There was a table laid out with a selection of the
children's books
he has illustrated, which I had previously looked at on his website and on amazon. But the exciting thing for me, that made the exhibition worthwhile, was that two of his original paintings were hung on the wall nearby. And, even more exciting, it was clear from the originals, in a way that is difficult to see in the books, that he is yet another children's book illustrator who uses collage! There was a painting of Suzy Goose cut out and stuck on to a background in much the same way as in some of
John Burningham's
illustrations - and just like I had intended for my 'Frog who Cried', if I'd ever got around to finishing my illustrations!
As it is, Greeting Card Universe took over from working on my book and my frog ended up as a Valentine's card -

- and on Zazzle he appears in his sorry state!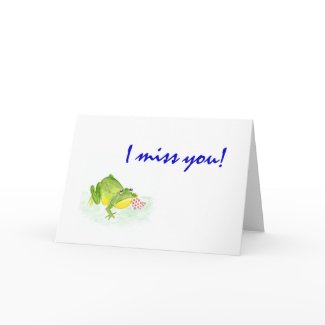 Frog 'I Miss You!' card
by
helikettle
Browse
Card Cards
On Tuesday Petr Horacek is giving workshops in 'Picture Book Making' at The Art Shop. I'd love to go along but am not sure whether the '7 yrs and upward' would include an almost 67 yr old? As 'juice and cookies' are included in the price, I'm rather doubtful. Especially when in mid-conversation with the gallery owner about the explosion of exciting new children's book illustrators in the Sixties, I completely forgot the name of my all time favourite,
Ezra Jack Keats
! It happens quite a lot these days....!