Elizabeth White's book about
Starting and Running a Greeting Card Business
cautions against selling at Craft Markets, advising the artist to seek out instead Craft Fairs, where the price of admission is quite high, as there will be more likehood of finding customers who are willing to pay a good price for a greeting card. So last weekend I visited our local monthly craft
market
to see if this was in fact true. I had explored the market when I first moved to Abergavenny some years ago and thought it seemed a very dreary affair, with nothing very interesting for sale and very few customers and had never been back since. This time was a little different. There were several stalls offering products I liked, such as
this one
, and there were a lot more people browsing. However, I didn't get the impression that much money was changing hands and wondered whether at least some people had come inside to get out of the cold wind and heavy, sleety showers! I didn't stay long.
Yesterday I was chatting about this with a friend from Norwich, who told me that she had just visited a craft
fair
in Norwich, where she had found stalls offering goods that she would have liked to buy if she had been able to afford them, but also a great many 'products' ranging from the repetitive to the downright awful. One stall that fell into the 'awful' bracket offered photographs on canvas blocks or framed behind glass and, although the stall-holder insisted they were photos, they looked more like really bad oil paintings! My friend does not use a computer and deduced that he had 'touched up' his photos with oil paints. That may be what he'd done but it's also possible that he had used the 'artisitic' menu in Photoshop (or one of its free equivalents), something I had noticed but never really explored. But last night, when I'd finished editing some of my recent photos of the last of the wallflowers in my garden, I decided to have a little 'play on my computer' and was astonished by what could be achieved with the click of the mouse!
This is the original photograph on a mug - I like the fine detail of the veins in wallflowers' petals in close-up when you hover over them in the 'store' -
Wallflowers Mug
by
helikettle
cheap coffee mug
with zazzle
- so I went on to make a mousepad and some slip-on Keds shoes.
But in some ways I prefer the 'oil painting' effect - it somehow bears more likeness to the way I see the world, even though my eyesight is near perfect - except sometimes, when it comes to reading the microwave instructions on the backs of frozen ready-meals! It seems to highlight the lights and darks (is this what people mean by 'tonal balance', a phrase I keep coming across recently?) and, in my view, there's a vibrancy that a sharply defined photograph often lacks.
So, with some misgivings about whether I was 'cheating', I went on to make a set of notecards and uploaded them to the online stores -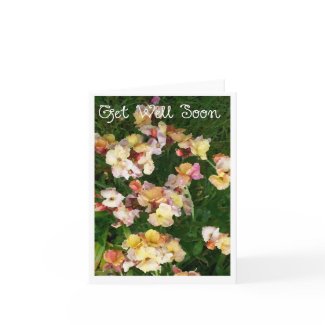 'Wallflowers' Get Well Soon Notecard
by
helikettle
cards
from zazzle
I suppose it's the finished work that counts, not necessarily how it came about, and I like the way these turned out - but I still feel a bit as if I've cheated. It was an interesting experiment but I don't think I'll be doing it often!