I was so looking forward to a nice quiet long weekend with nothing 'fixed' to do but plenty of time to catch up with making more 'name' birthday cards and starting a series of specific 'age' cards for children. But 'the best laid plans...' and so on came upon me in the form of my Central Heating boiler going on strike, late on Thursday evening - why does it always happen on a Bank Holiday?! - and a really bad dose of backpain. (The two are not unrelated, I suspect.).
But I have somehow managed to do a few more of the most popular names - Daniel, Edward and Emma seemed to be a bit feeble for a 'series' of specific name cards! - in between waiting to hear back from plumbers and making hot drinks and hot water bottles to keep warm!
This one also has a white background version.
This one also has a 'black background' version.
And I've made a few matching gifts on Zazzle, as well as uploading them to Greeting Card Universe -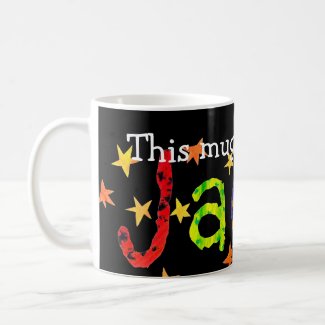 'This Mug belongs to Jacob' White Mug
by
helikettle
View more
Mug Mugs
and
'Sarah' girls' T-shirt
by
helikettle
View other
Sarah T-Shirts
- and possibly the most positive thing to happen this weekend - I have at last learnt how to link to products in my Zazzle store on my blog - simples!!! And, all being well, by this time tomorrow, I should have hot radiators and hot water again!